Dear BlockedPc,
Today i have found a weird ass chicken that had red eyes and feathers so solid that they break your arm on inpact.
My dwarfen instict told me not to attack it without a weapon!
But i didn't listen and died a horrible dead.
Due some weird lights i made a revival back to earth, The great notch loves me i think!
But due my research on this special chicken i have found out that they are mutated!
Probably by evil CreepDemons!
I have called them Dire chickens, just because the horrible smell they have!
They smell like..like Sulphur!
This makes me even think more that they are made by the CreepDemons!
My research log so far!
I will Research other strange creatures that cna do horrible things!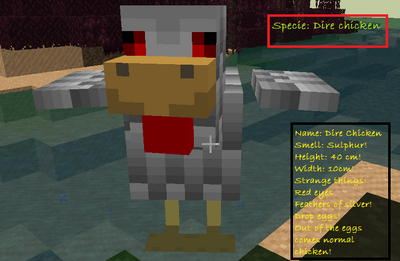 _---Logged off  Docter tweet---_